Quick Stats
Element
Rarity
Type
Cost
Hell
N
DEF
6
Agares [N]
---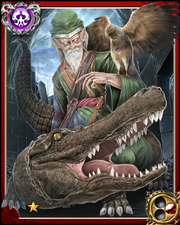 Old sage who can manipulate alligator and hawk emerged.
Stats
Skill
None
Agares [N+]
---
This sage do not like to fight. He likes to live peacefully.
Stats
Skill
None
Agares [N++]
---
He knows the every language in the world and can teach to people. He also can predict the future.
Stats
Skill
None
Agares [NN]
---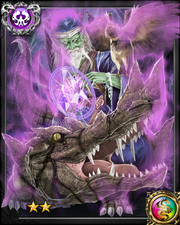 He is trusted by everyone so when he says something, everyone follow him. You have to be careful when you ask him for help.
Stats
Skill
None
Agares [N]:
Agares [N+]:
Agares [N++]:
Agares [NN]:
Completion:
In demonology, Agares is a Duke ruling the eastern zone of Hell. He is depicted as an old man riding on a crocodile with a hawk roosting on his fist. Aside from the skills mentioned in the card's descriptions, he also has the power to cause earthquakes and make runaways return.
Ad blocker interference detected!
Wikia is a free-to-use site that makes money from advertising. We have a modified experience for viewers using ad blockers

Wikia is not accessible if you've made further modifications. Remove the custom ad blocker rule(s) and the page will load as expected.