Quick Stats
Element
Rarity
Type
Cost
Hell
N
ATK
6
Amatsuki [N]
---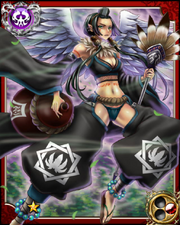 The mountain is a sacred place. It is forbidden for common humans to step foot into it. But recently to our regret humans and demons are coming in mass.
Stats
Skill
None
Amatsuki [N+]
---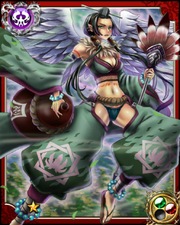 This fan can freely manipulate the wind. I am able to ride this wind and fly. Can you match my speed?
Stats
Skill
None
Amatsuki [N++]
---
Wyverns are wild. They go messing about mountains for who knows what. I would like to straighten them out.
Stats
Skill
None
Amatsuki [NN]
---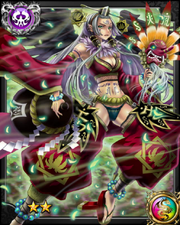 The world outside is pretty interesting after all. It seems war will continue for a while. I will stick around and see how you do.
Stats
Skill
None
Amatsuki [N]: ATK +400
Amatsuki [N+]: ATK +500
Amatsuki [N++]: ATK +600
Amatsuki [NN]: ATK +700
Completion: ATK +1000
Amatsuki is a tengu. It is a Japanese legendary creature that is depicted with both human and avian characteristics with its long nose as its defining feature as seen on Amatsuki's fan from EV3 and EV4. The fan can summon great winds.
Ad blocker interference detected!
Wikia is a free-to-use site that makes money from advertising. We have a modified experience for viewers using ad blockers

Wikia is not accessible if you've made further modifications. Remove the custom ad blocker rule(s) and the page will load as expected.