Quick Stats
Element
Rarity
Type
Cost
Earth
NN
ATK
7
Baby Bahamut [NN]
---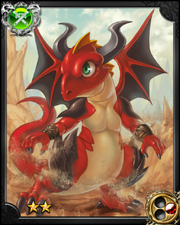 If I told you I visited the ancient times after a rift in dimensions would you believe me? You do? Well, you won't believe what I met. ("Sherard's Adventure Book" Chapter 999, Section 1)
Stats
Skill
None
Baby Bahamut [NN+]
---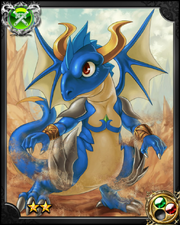 Even the glorious gods and strongest heroes were babies at one point. Then, would it surprise you if the King of Dragons was once adorable? ("Sherard's Adventure Book" Chapter 999, Section 2)
Stats
Skill
None
Baby Bahamut [NN++]
---
I sometimes think. When I did travel back in time, if I had killed that baby dragon, how the course of history would have changed. ("Sherard's Adventure Book" Chapter 999, Section 3)
Stats
Skill
None
Baby Bahamut [R]
---
He was staring directly into my eyes as he was feeding on a corpse of a dragon larger than himself. He was adorable, but also instilled fear within me. ("Sherard's Adventure Book" Chapter 999, Section 4)
Stats
Skill
None
Baby Bahamut [NN]: ATK +700
Baby Bahamut [NN+]: ATK +800
Baby Bahamut [NN++]: ATK +900
Baby Bahamut [R]: ATK +1000
Completion: ATK +1200
In Arabian mythology, Bahamut is a vast fish that supports the Earth, sometimes described having an elephant or hippopotamus head.
Ad blocker interference detected!
Wikia is a free-to-use site that makes money from advertising. We have a modified experience for viewers using ad blockers

Wikia is not accessible if you've made further modifications. Remove the custom ad blocker rule(s) and the page will load as expected.