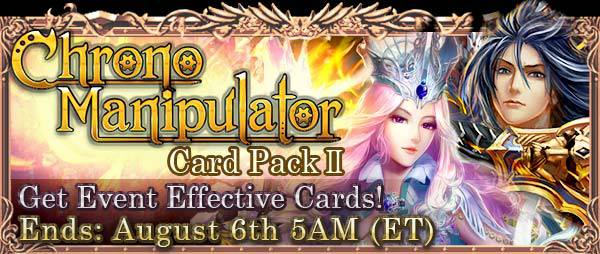 The Chrono Manipulator Card Pack II is a card pack that came after Chrono Manipulator Card Pack and accompanied the event Chrono Chronicle halfway through the end. It was available from August 1 - August 6, 2013.
Two new cards were added on August 5. They are Mysterious Master Epicurius and Glacial Master Hyperborea.
What's Chrono Manipulator CP II?
Edit
The first 10xCP draw only requires 5 LCP Tickets. Two more draws gives the player a guaranteed King of Wind Zephyrus.
CP Duel Effective Cards
Edit
These cards are effective against the card pack's raid bosses.
Step Up Card Pack
Edit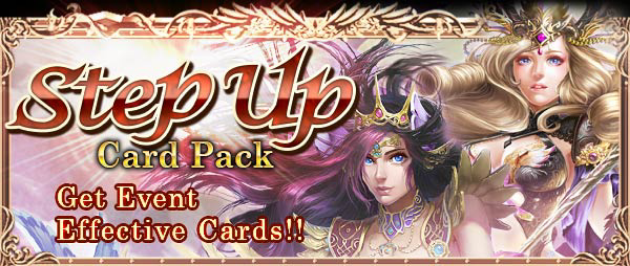 The Step Up Card Pack came with the advent of the card pack on August 1. Like the previous card pack, the price of Step 7 is halved on the first draw of the player.
* SR or SSR Guaranteed every draw
* Chances of getting SR or SSR cards increase every time you Step Up
LR Ticket Exchange Spot
Edit
The LR Ticket is obtained on the 10th, 20th, and 30th defeat of the raid bosses in the card pack.
SSR Ticket Exchange Spot
Edit
The SSR Ticket is obtained on the 5th, 15th, and 25th defeat of the raid bosses in the card pack.
Reward List
Edit
Consecutive
Edit
Defeat
Rewards
5, 15, 25
SSR Exchange Ticket x1
10, 20, 30
LR Exchange Ticket x1
Total Eclipse Card [LR] x1
Chrono Manipulator II Banner
Edit
Ad blocker interference detected!
Wikia is a free-to-use site that makes money from advertising. We have a modified experience for viewers using ad blockers

Wikia is not accessible if you've made further modifications. Remove the custom ad blocker rule(s) and the page will load as expected.