Quick Stats
Element
Rarity
Type
Cost
Hell
N
ATK
6
Crimson [N]
---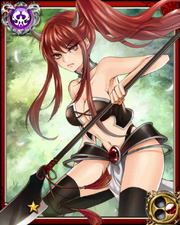 It appears you don't know that it's been said I can even cut down mountains with one swipe of my naginata. I'll make those mountains flat so you can see the stars better.
Stats
Skill
None
Crimson [N+]
---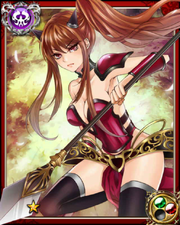 So what, are you going to try to defy me? You're 100, nay 1000 years too early. Unless you want to die, get out of my face!
Stats
Skill
None
Crimson [N++]
---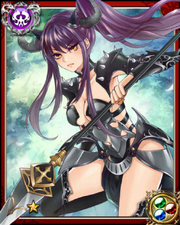 I am an ally of all oppressed people. I show no mercy to those that try to get in my way, so prepare yourself!
Stats
Skill
None
Crimson [NN]
---
You look like you have some fairly good prospects for the future. What do you think? Will you fight me? Call on me anytime you feel so inclined!
Stats
Skill
None
Crimson [N]: ATK +300
Crimson [N+]: ATK +400
Crimson [N++]: ATK +500
Crimson [NN]: ATK +600
Completion: ATK +900
Crimson is kurenai in Japanese, which is her name in the Japanese version of the game.
Ad blocker interference detected!
Wikia is a free-to-use site that makes money from advertising. We have a modified experience for viewers using ad blockers

Wikia is not accessible if you've made further modifications. Remove the custom ad blocker rule(s) and the page will load as expected.