Quick Stats
Element
Rarity
Type
Cost
Earth
R
ATK
9

Dreaming Cinderella [R]
---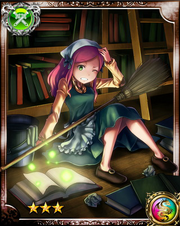 Oh, I'd love to go to the party and talk with many different people, even just once... oh, I wonder if there ever was a book with such a story?
Stats
Skill
Magical Dream: Slightly ups ATK Power of deck's Earth cards, and slightly lowers DEF Power of opponent deck's Hell cards.
Dreaming Cinderella [R]:
Dreaming Cinderella [R+1]:
Dreaming Cinderella [R+2]:
Dreaming Cinderella [R+3]:
Dreaming Cinderella [R+4]:
Complete: N/A
She evolves into Magician Cinderella.
Cinderella is based on the story of the same name about a young woman under unjust oppression who receives a triumphant reward in the end.
Ad blocker interference detected!
Wikia is a free-to-use site that makes money from advertising. We have a modified experience for viewers using ad blockers

Wikia is not accessible if you've made further modifications. Remove the custom ad blocker rule(s) and the page will load as expected.