Quick Stats
Element
Rarity
Type
Cost
Earth
R
DEF
9

Earth Child Apocrypha [R]
---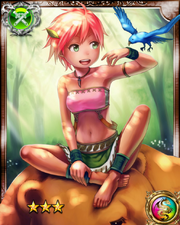 The animals of the forest are all my friends. I protect them in place of their mother.
Stats
Skill
Calydorn: Raises defense power of your army's earth elements for battle slightly
---
Earth Child Apocrypha [R+1]

Earth Child Apocrypha [R+2]

Earth Child Apocrypha [R+3]

Earth Child Apocrypha RR+4]
Earth Child Apocrypha [R]: DEF +500
Earth Child Apocrypha [R+1]: DEF +600
Earth Child Apocrypha [R+2]: DEF +700
Earth Child Apocrypha [R+3]: DEF +800
Earth Child Apocrypha [R+4]: DEF +900
She evolves into Injured Apocrypha.
While the name Apocrypha is generally applied to the books of the Roman Catholic's and Eastern Orthodox's Bibles, Earth Child Apocrypha's name might have come from the Greek meaning of "those hidden away" because she lives in the woods along with her animal friends far from the eyes of society.
In the Japanese version of the game, her name is actually Atalanta, named after the virgin huntress who grew up in the forest and was taken care of by a bear. This is further proven by the card's skill, "Calydorn." It is the misspelling of the word Calydon, the city ravaged by the Calydonian Boar, which was sent by an angry Artemis. Atalanta was able to draw first blood by shooting it with an arrow.
While the card doesn't have a complete material, once the materials from R to R+3 is obtained, it will be shown that you are rewarded with a slot as the complete material reward instead, but it does not show up in the gift box.
The card only shows R up to R+3 materials once they're obtained. R+4 material is not shown.
Ad blocker interference detected!
Wikia is a free-to-use site that makes money from advertising. We have a modified experience for viewers using ad blockers

Wikia is not accessible if you've made further modifications. Remove the custom ad blocker rule(s) and the page will load as expected.