Quick Stats
Element
Rarity
Type
Cost
Heaven
RR
ATK
13
Elven High Guardian [RR]
---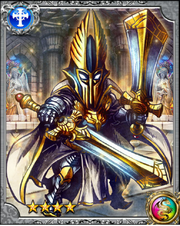 The dimensional distortion has temporarily linked the world of "Deity Wars" with the world of Mobage"s "Blood Brothers"!
Stats
Skill
Dragon Lance: Moderately ups ATK Power of deck's Heaven Cards
Elven High Guardian [RR]:
Completion:
Ad blocker interference detected!
Wikia is a free-to-use site that makes money from advertising. We have a modified experience for viewers using ad blockers

Wikia is not accessible if you've made further modifications. Remove the custom ad blocker rule(s) and the page will load as expected.