Quick Stats
Element
Rarity
Type
Cost
Earth
SSR
ATK
25

Eternal Cinderella [SSR]
---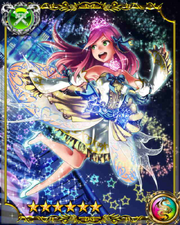 My world has become much bigger by coming to this party. Er, well, it's really thanks to this magic. Next time it will be my turn to return the favor with magic.
Stats
Skill
Cinderella Dream: Greatly ups ATK Power of deck's Earth cards, and significantly lowers DEF Power of opponent deck's Hell cards.
Eternal Cinderella [SSR]:
Ad blocker interference detected!
Wikia is a free-to-use site that makes money from advertising. We have a modified experience for viewers using ad blockers

Wikia is not accessible if you've made further modifications. Remove the custom ad blocker rule(s) and the page will load as expected.