Quick Stats
Element
Rarity
Type
Cost
Earth
NN
ATK
7
Fairy Lepp [NN]
---
With my shoes, I can walk on fire or water. If you want a pair, here's the list of the necessary ingredients.
Stats
Skill
None
Fairy Lepp [NN+]
---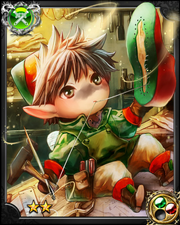 Oh nice, you have assembled all the necessary materials. Let me get to work.
Stats
Skill
None
Fairy Lepp [NN++]
---
You remind me of Sherard. There is something insanely adventurous about you.
Stats
Skill
None
Fairy Lepp [R]
---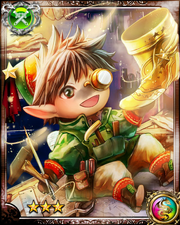 I will make you a pair of shoes not even king possess. A truly rare brand.
Stats
Skill
None
Fairy Lepp [NN]: ATK +800
Fairy Lepp [NN+]: ATK +900
Fairy Lepp [NN++]: ATK +1000
Fairy Lepp [R]: ATK +1100
Completion: ATK +1300
In the Japanese version of the game, his name is 妖精レプラ (yousei repura). レプラ is short for レプラコーン (repurakōn). It is how Japanese would pronounce the word leprechaun, meaning that Fairy Lepp's name translated directly from Japanese would be Fairy Lepra instead.
He is most likely based on the shoe-making elves in the fairy tale The Elves and the Shoemaker.
He appears as an area boss in the event Fullmoon Party - Transcend Gate.
Ad blocker interference detected!
Wikia is a free-to-use site that makes money from advertising. We have a modified experience for viewers using ad blockers

Wikia is not accessible if you've made further modifications. Remove the custom ad blocker rule(s) and the page will load as expected.