Quick Stats
Element
Rarity
Type
Cost
Hell
SSR
ATK
25
Fallen Angel Lucifer [SSR]
---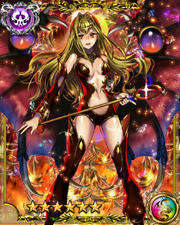 Oh pitiful God, you were deceived by the humans. If you had not been deceived, you would never have thrown me into Hell. Wait, God. Your Lucifer is coming...!
Stats
Skill
Satan Soul: Extremely raises hell element attack
Fallen Angel Lucifer [SSR]: Shine Power
Completion: N/A
Ad blocker interference detected!
Wikia is a free-to-use site that makes money from advertising. We have a modified experience for viewers using ad blockers

Wikia is not accessible if you've made further modifications. Remove the custom ad blocker rule(s) and the page will load as expected.