Quick Stats
Element
Rarity
Type
Cost
Heaven
R
N/A
250
Fighter Kujata [R]
---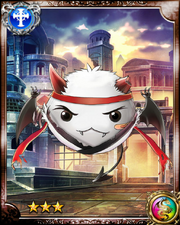 Used as special ingredient for enhancement to yield lots of EXP. His slender arms could split off the earth, and his sharp nails could split off the sea, he wish he could. Well, his fighting split is a man!
Stats
Skill
None
N/A
Ad blocker interference detected!
Wikia is a free-to-use site that makes money from advertising. We have a modified experience for viewers using ad blockers

Wikia is not accessible if you've made further modifications. Remove the custom ad blocker rule(s) and the page will load as expected.