Quick Stats
Element
Rarity
Type
Cost
Earth
N
ATK
6
Frog Samurai [N]
---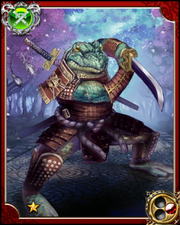 Do not underestimate the Frog nation. I am sword master from the Yulo Nation the country of warriors. I must realize the long-desired wish of my people.
Stats
Skill
None
Frog Samurai [N+]
---
The more I deepen mastery of war, the more I feel the fragility of life, of nature, of this world, and all its values of wealth or glory.
Stats
Skill
None
Frog Samurai [N++]
---
I will slash whatever comes into my way, whether a demon or a saint. It is the way of the warrior. Without a shadow of a doubt, we swing our sword.
Stats
Skill
None
Frog Samurai [NN]
---
Remember, bushido or the way of the samurai is to die. A real samurai fears not death. We rather fear to linger on.
Stats
Skill
None
Frog Samurai [N]: ATK +400
Frog Samurai [N+]: ATK +500
Frog Samurai [N++]: ATK +600
Frog Samurai [NN]: ATK +700
Completion: ATK +1000
Monk Warrior Ural does not underestimate any one of them even if he considers Frogs weaker than Rabbits.
He is the boss of chapter 13 in Quest who mistakes the player as an enemy trying to take over the Frog Nation. In chapter 18, he slays Talwi, one of the bosses of chapter 18, who was fleeing from the player. He takes revenge for the destruction of his home.
Ad blocker interference detected!
Wikia is a free-to-use site that makes money from advertising. We have a modified experience for viewers using ad blockers

Wikia is not accessible if you've made further modifications. Remove the custom ad blocker rule(s) and the page will load as expected.