Quick Stats
Element
Rarity
Type
Cost
Heaven
SSR
ATK
25
Goddess of Annihilation Frigg [SSR]
---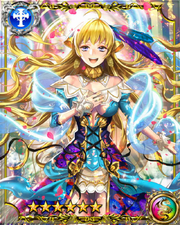 Deities will die, Heaven will fall, Earth will collapse, and Hell will burn. The day of Ragna will eventually bring everything to an end, but the destiny is telling me that the world will revive.
Stats
Skill
God Mother: Greatly ups ATK Power of deck's Heaven cards, and significantly lowers DEF Power of opponent deck's Earth cards.
Goddess of Annihilation Frigg [SSR]:
Ad blocker interference detected!
Wikia is a free-to-use site that makes money from advertising. We have a modified experience for viewers using ad blockers

Wikia is not accessible if you've made further modifications. Remove the custom ad blocker rule(s) and the page will load as expected.