Quick Stats
Element
Rarity
Type
Cost
Hell
N
ATK
5
Hellbird [N]
---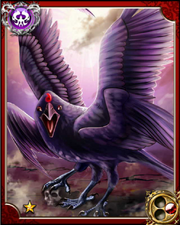 When you feel especially unlucky, look behind you. If you see a three-legged bird, you're finished...!
Stats
Skill
None
Hellbird [N+]
---
It's a servant of Hell that can sniff out the dead. Only those near death can see it.
Stats
Skill
None
Hellbird [N++]
---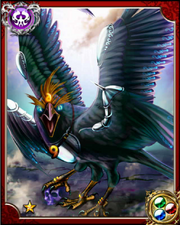 It grows by feeding on your vitality. Can you see how it's gotten bigger compared to last week?
Stats
Skill
None
Hellbird [NN]
---
One day, you'll find a black feather on your pillow. That'll be the end of you. It'll carry your soul down to Hell.
Stats
Skill
None
Hellbird [N]: ATK +600
Hellbird [N+]: ATK +700
Hellbird [N++]: ATK +800
Hellbird [NN]: ATK +900
Completion: ATK +1200
Hellbird may have been partly based on the mythical creature, Yatagarasu (Three-Legged Crow).
The objects on Hellbird's forehead and necklace are called a "magatama," which is a jewel made out of stone or jade. It originally served as jewelry, but has been made into a ceremonial and religious object.
Ad blocker interference detected!
Wikia is a free-to-use site that makes money from advertising. We have a modified experience for viewers using ad blockers

Wikia is not accessible if you've made further modifications. Remove the custom ad blocker rule(s) and the page will load as expected.