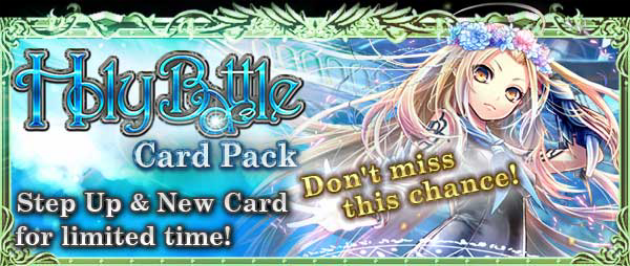 The Holy Battle Card Pack is a card pack that accompanied the event Fallen Eden. It was available from September 17 - 30, 2013. Similar to some previous card packs, the first 10xCP draw only requires 5 Legend CP Tickets. Do note that you still need to possess at least 10 LCP Tickets to use the function.
Summer Sky Goddess Asteria and Odin Saga were only available for a limited time as card pack bonuses from September 19-20. Asteria was also available in the Ticket Exchange Spot during that period. She returned on September 24 as one of the cards that can be obtained from drawing 10xCP until the 27th.
More event effective cards were added on September 20 as card pack bonuses replacing the previous cards. They were also added as limited ticket exchange prizes until September 24. Then these cards were replaced with more event effective cards on September 24.
Summer Fairy Noah was introduced and added on September 27 until the end of the card pack. She can be obtained as a CP Bonus prize, drawing three 10xCP after third draw, or from the Step Up CP.
What's Holy Battle CP?
Edit
Previous Description
Edit
Current Description
Edit
Holy Battle CP Bonus
Edit
You get 1 bonus for 1xCP & 13 bonuses for 10xCP. The choice of bonus is random.
Step Up Card Pack
Edit
The Step Up Card Pack was added on September 24. The price of Step 7 is halved on the first draw of the player.
Previous Rule
Edit
Current Rule
Edit
* SR or SSR Guaranteed every draw
* Chances of getting SR or SSR cards increase every time you Step Up
LR Ticket Exchange Spot
Edit

This is where a player can turn in his/her LR Exchange Ticket in exchange for an LR card. The ticket is obtained from the Card Pack Bonus.
Ticket Exchange Spot
Edit
Holy Battle Banner
Edit
Ad blocker interference detected!
Wikia is a free-to-use site that makes money from advertising. We have a modified experience for viewers using ad blockers

Wikia is not accessible if you've made further modifications. Remove the custom ad blocker rule(s) and the page will load as expected.