Quick Stats
Element
Rarity
Type
Cost
Heaven
RR
DEF
18
Kirin [RR]
---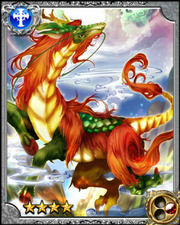 A legendary beast lord. Its mission is to love and protect all creatures.
Stats
Skill
None
Kirin [RR+]
---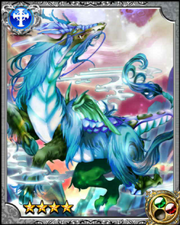 It uses its unique abilities to fight off evil.
Stats
Skill
None
Kirin [RR++]
---
It presents its power to those who possess pure, just hearts.
Stats
Skill
None
Kirin [SR]
---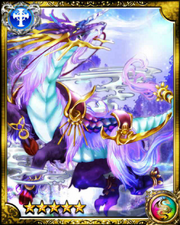 Destroying evil and saving the weak, it presents its power to other just beings.
Stats
Skill
None
Kirin [RR]: DEF +1100
Kirin [RR+]: DEF +1200
Kirin [RR++]: DEF +1300
Kirin [SR]: DEF +1400
Completion: DEF +1700
In East Asian cultures, the Kirin is a peaceful mythical hooved creature that is said to bring prosperity and punish the wicked. It tends to be depicted similarly to that of a giraffe, a unicorn, or a combination of other creatures such as a dragon, tiger, deer, etc.
In the Nation of Yulo, Unicorns are regarded as its white versions.
Ad blocker interference detected!
Wikia is a free-to-use site that makes money from advertising. We have a modified experience for viewers using ad blockers

Wikia is not accessible if you've made further modifications. Remove the custom ad blocker rule(s) and the page will load as expected.