Quick Stats
Element
Rarity
Type
Cost
Hell
R
ATK
12
Lamia [R]
---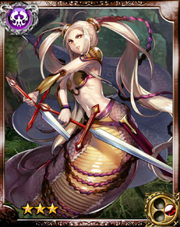 Forbidden love with a god cursed this woman with her monstrous form. She can't even speak anymore.
Stats
Skill
None
Lamia [R+]
---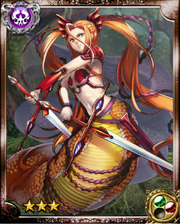 She can charm people with the sound of her beautiful whistling and drive them mad.
Stats
Skill
None
Lamia [R++]
---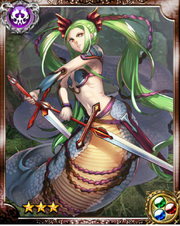 She uses the sword in her hand to attack her prey once she lures them in.
Stats
Skill
None
Lamia [RR]
---
She uses her serpentine lower half to perform unexpected attacks and strike her opponent's blind spots.
Stats
Skill
None
Lamia [R]:
Lamia [R+]:
Lamia [R++]:
Lamia [RR]:
Completion:
In Greek mythology, Lamia is the name of a beautiful queen of Libya and mistress of Zeus who was cursed by Hera out of jealousy to become a monster that devoured children and drank blood of charmed men, similar to a vampire. She is typically depicted as a half-snake with her lower half of the body as serpentine.
She is the first boss in Quest.
Ad blocker interference detected!
Wikia is a free-to-use site that makes money from advertising. We have a modified experience for viewers using ad blockers

Wikia is not accessible if you've made further modifications. Remove the custom ad blocker rule(s) and the page will load as expected.