Quick Stats
Element
Rarity
Type
Cost
Earth
LR
ATK
50
Legend Arthur [LR]
---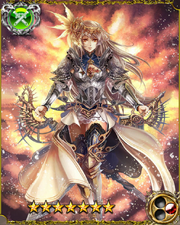 Sometimes those with strength are tempted by evil and those without turn out to have the greatest moral integrity. It is in this time of crisis that we see who is truly brave and strong.
Stats
Skill
Force of Avalon: Immensely ups ATK Power of deck's Earth cards, and greatly lowers DEF Power of opponent deck's Hell cards.
Legend Arthur [GR]
---
Light and darkness are at war. Light is not guaranteed. It is the fruit of a continuous effort. We must fight to keep the light of hope burning!
Stats
Skill
Legend Arthur [LR]: Gem of the Lake Girl (ATK +4000)
Legend Arthur [GR]: Seal of the Round Table
This is the only card that evolves once.
Legend Arthur is based on the legendary king of Britons who led the famous Knights of the Round Table in Camelot.
Ad blocker interference detected!
Wikia is a free-to-use site that makes money from advertising. We have a modified experience for viewers using ad blockers

Wikia is not accessible if you've made further modifications. Remove the custom ad blocker rule(s) and the page will load as expected.