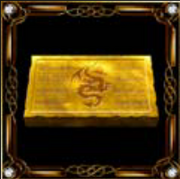 DescriptionEdit
The legend card pack ticket or LCP is used to obtain cards from the card pack page. If you use a legend CP ticket, you are guaranteed a card with rarity R and above. Cards with rarities N and NN will not be released by this ticket. Also, unlike the cards released by the raid boss ticket, rare raid boss ticket and yell points, there is no limit to the amount of cards one can obtain from a legend CP ticket.
Obtaining the Legend CP TicketEdit
The legend card pack ticket can be obtained in various ways.
Mobacoins can be used to purchase an LCP. 1 legend cp ticket can be purchased for 300 mobacoins, 5 for 1500 mobacoins and 11 for 3000 mobacoins. Sometimes event offers can be found on the event page or discount store which sells at a lower price.
They are also given out as rewards in events. These rewards tend to range from completing a certain area of the event quest, rewards in the secret stage of the event, prizes for slots or decorations, pvp arena rewards, as well as ranking rewards.
In addition, every ten tweets you send out about Deity wars will entitle you to one legend cp as well.
Finally, you can also gain legend cp for every 5 people that enter your referral code.
Special Tickets
Edit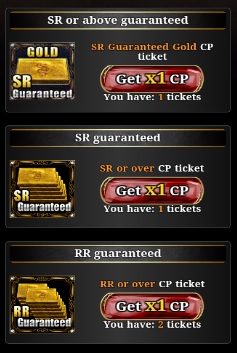 There are many special tickets which share similar appearance to legend cp ticket but are found under the bonuses section. These tickets cannot be used in conjuction with non-special tickets and cannot be drawn as a part of 10x pack. Sometimes they can be bought or given out as rewards.
Material CP are essentially LCP tickets that give you an extra material along with the card.
RR, SR, SSR Guaranteed Ticket - These tickets look similar to the legend cp ticket but can be more "gold" and yields a random card of the respective rarity.
RR, SR Premium Ticket - These tickets are silver and yield a RR card of 5 slots, a SR card or above. Often they have 25x - 600x increased chance to draw SR or SSR.
Login Bonus Ticket - These bronze tickets act like raid boss tickets.
5 Slots Guaranteed RR Ticket - These tickets give a 5 slot RR rarity card.
LR Exchange Ticket - These blue tickets can be exchanged for an base LR card.
As of this time, it is impossible to trade a legend cp ticket between accounts.
Ad blocker interference detected!
Wikia is a free-to-use site that makes money from advertising. We have a modified experience for viewers using ad blockers

Wikia is not accessible if you've made further modifications. Remove the custom ad blocker rule(s) and the page will load as expected.