The Lunar Battle Card Pack is a card pack that accompanied the event Lunar Colosseum. It was available from October 15 - November 7, 2013. Similar to some previous card packs that accompanied Duel Zone events, the first 10xCP draw only requires 5 Legend CP Tickets. Do note that you still need to possess at least 10 LCP Tickets to use the function.
War Princess Discordia was added to the card pack on October 19. She can be obtained guaranteed at the 3rd draw. Also, a CP Ticket with a 10% rate of obtaining her was added in the Ticket Exchange Spot.
The Card Pack was updated on October 25. The event-effective cards in the CP Bonus were replaced with new event-effective cards. New tickets were also added in the Ticket Exchange Spot.
What's Lunar Battle CP?
Edit
Previous Description
Edit
Current Description
Edit
Lunar Battle CP Bonus
Edit
You get 1 bonus for 1xCP & 13 bonuses for 10xCP. The choice of bonus is random.
Step Up Card Pack
Edit
The first Step Up Card Pack was added on October 21 until the 28th. Unlike previous Step Up CPs, this Step Up CP decreased the prices the player pays per step. Also, the SSR card is guaranteed at the 2nd draw of Step 7.
The second Step Up Card Pack was added on October 28 until the end of the card pack. It replaced the previous cards with different event-effective cards reflecting the cards found in the CP Bonus.
* SR or SSR Guaranteed every draw
* Chances of getting SR or SSR cards increase every time you Step Up
LR Ticket Exchange Spot
Edit
This is where a player can turn in his/her LR Exchange Ticket in exchange for an LR card. The ticket is obtained from the Card Pack Bonus.
Ticket Exchange Spot
Edit

Lunar Colosseum Max Damage Ranking Reward
Edit
This is where players in top ranking can exchange their LR Tickets.
Lunar Battle Banner
Edit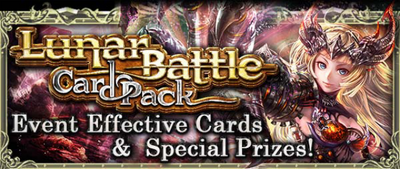 Ad blocker interference detected!
Wikia is a free-to-use site that makes money from advertising. We have a modified experience for viewers using ad blockers

Wikia is not accessible if you've made further modifications. Remove the custom ad blocker rule(s) and the page will load as expected.