Quick Stats
Element
Rarity
Type
Cost
Earth
N
DEF
6
Lunaria [N]
---
Oh, you also came fox hunting? What a coincidence. I'm also a "fox" hunter. I know a good hunting ground. Will you go with me deep into the forest? ... Don't pay any attention to this tail.
Stats
Skill
None
Lunaria [N+]
---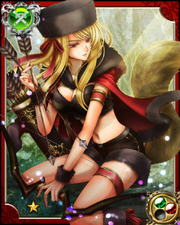 Do you intend to hunt foxes no matter what? Don't you think foxes are pitiful creatures? Foxes weren't born to become scarves for ladies.
Stats
Skill
None
Lunaria [N++]
---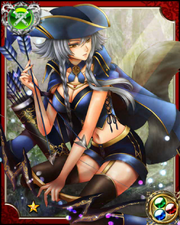 Hey, I wonder if you know. Foxes from the eastern countries have bewitched humans and eaten them. They bring hunters deep into this kind of forest... hehehe, just kidding. I wouldn't eat you. I wouldn't EAT you...
Stats
Skill
None
Lunaria [NN]
---
You'll stop hunting foxes for me, won't you? You're so kind. And wise to top it off. If you had hunted my friends, something very terrible would have happened.
Stats
Skill
None
Lunaria [N]: DEF +300
Lunaria [N+]: DEF +400
Lunaria [N++]: DEF +500
Lunaria [NN]: DEF +600
Completion: DEF +900
Ad blocker interference detected!
Wikia is a free-to-use site that makes money from advertising. We have a modified experience for viewers using ad blockers

Wikia is not accessible if you've made further modifications. Remove the custom ad blocker rule(s) and the page will load as expected.