Quick Stats
Element
Rarity
Type
Cost
Earth
N
DEF
4
Mandrake [N]
---
At first I thought it was just grass. Then all of a sudden I felt very tired. When I woke up, my bread is missing.
Stats
Skill
None
Mandrake [N+]
---
My body soon went numb. Then, right in front of my immobile eyes, it ate my last strip of jerky.
Stats
Skill
None
Mandrake [N++]
---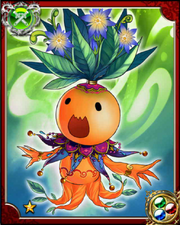 Another me appeared. I was playing with it for some reason. By the time I realized I was seeing things, the fruit in my satchel was gone.
Stats
Skill
None
Mandrake [NN]
---
I set up a tent and prepared to eat when I noticed a horrible stench. I lost all my appetite and gave my food to it.
Stats
Skill
None
Mandrake [N]: DEF +700
Mandrake [N+]: DEF +800
Mandrake [N++]: DEF +900
Mandrake [NN]: DEF +1000
Completion: DEF +1300
The mandrake is a hallucinogenic plant belonging to the nightshade family. Its roots is said to have magical powers because of its human-like appearance.
According to legend, when the root is dug out, it screams and anyone who hears it dies.
Doctor Tonmul possesses a poison extract that came from it.
He is one of the main characters in a series of mini-events that accompanied Fullmoon Party events. He stars in Turtle & Plant Fight, Gravito Linio, and Transcendere Porta.
Ad blocker interference detected!
Wikia is a free-to-use site that makes money from advertising. We have a modified experience for viewers using ad blockers

Wikia is not accessible if you've made further modifications. Remove the custom ad blocker rule(s) and the page will load as expected.