Quick Stats
Element
Rarity
Type
Cost
Hell
NN
ATK
8
Minos [NN]
---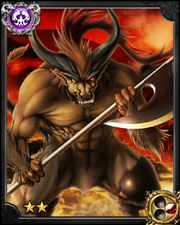 Guheheh. This year I get another sacrifice! I just love that taste!
Stats
Skill
None
Minos [NN+]
---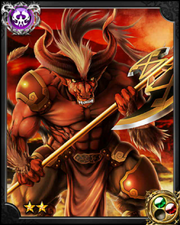 I can hear the sound of a sacrifice walking. It doesn't even know I'm going to eat it!
Stats
Skill
None
Minos [NN++]
---
I love children's faces when they freeze in fear. They all look so delicious.
Stats
Skill
None
Minos [R]
---
Who should I eat first? Hey, what's your name? Theseus? Guheheheh. I want to eat you first.
Stats
Skill
None
Minos [NN]: Attack +600
Minos [NN+]: Attack +700
Minos [NN++]: Attack +800
Minos [R]: Attack +900
Completion: Attack +1200
Minos is based on the Greek mythological creature, the minotaur, but its name came from the king of Crete who forced King Aegeus to sacrifice seven young men and seven young women to be eaten by the minotaur in its labyrinth. Theseus is the mythological hero who slew the minotaur. King Minos, after his death, became a judge in the underworld.
Ad blocker interference detected!
Wikia is a free-to-use site that makes money from advertising. We have a modified experience for viewers using ad blockers

Wikia is not accessible if you've made further modifications. Remove the custom ad blocker rule(s) and the page will load as expected.