Quick Stats
Element
Rarity
Type
Cost
Heaven
R
ATK
12
Raiju [R]
---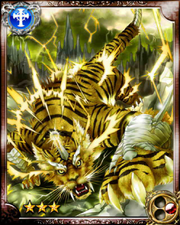 A beast that controls lightning. It electrifies its fangs to paralyze its prey.
Stats
Skill
None
Raiju [R+]
---
Leather cloaks made from its skin can protect wearers from electricity.
Stats
Skill
None
Raiju [R++]
---
When it gets angry, its hair stands on end and disperses electricity through the air.
Stats
Skill
None
Raiju [RR]
---
Don't fight with one when there's thunder, or else it will utilize the lightning to obliterate everything around it.
Stats
Skill
None
Raiju [R]: ATK +900
Raiju [R+]: ATK +1000
Raiju [R++]: ATK +1100
Raiju [RR]: ATK +1200
Completion: ATK +1500
In Japanese mythology, Raiju, meaning thunder beast, is a legendary creature that is composed of lightning in the shape of a cat, fox, weasel, or wolf, and it is the companion of the Shinto god of lightning, Raijin. It is generally calm, but it becomes agitated during thunderstorms.
Ad blocker interference detected!
Wikia is a free-to-use site that makes money from advertising. We have a modified experience for viewers using ad blockers

Wikia is not accessible if you've made further modifications. Remove the custom ad blocker rule(s) and the page will load as expected.