Quick Stats
Element
Rarity
Type
Cost
Heaven
N
DEF
6
Rhiannon [N]
---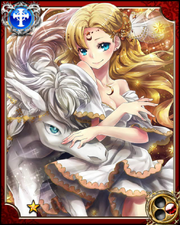 My name is Rhiannon. I link the world of the living with that of the dead. You who are about to join the deads, I've come to take you. (Tales of Rhiannon)
Stats
Skill
None
Rhiannon [N+]
---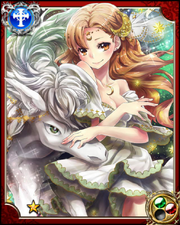 A most stunning beauty upon a white mare with shiny golden hair. Am I in heaven? (Heavenly Tales)
Stats
Skill
None
Rhiannon [N++]
---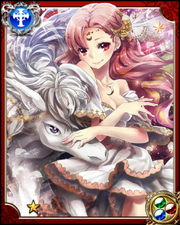 The mare is a loyal friend. The silent bond that links are more precious than any words or any relation so often disrupted by interest. (Heavenly Tales)
Stats
Skill
None
Rhiannon [NN]
---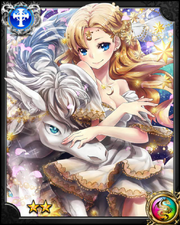 Good night, dear warrior. Forget the sorrows of the past, leave behind the worries of days gone by. Rest in peace. We will live on to speak of your courage in life and death. (Rhiannon's Address)
Stats
Skill
None
Rhiannon [N]: DEF +300
Rhiannon [N+]: DEF +400
Rhiannon [N++]: DEF +500
Rhiannon [NN]: DEF +600
Completion: DEF +1000
Rhiannon is a prominent figure in Welsh mythology. She is a good witch who travels on her white horse with her mysterious birds that can heal.
Ad blocker interference detected!
Wikia is a free-to-use site that makes money from advertising. We have a modified experience for viewers using ad blockers

Wikia is not accessible if you've made further modifications. Remove the custom ad blocker rule(s) and the page will load as expected.