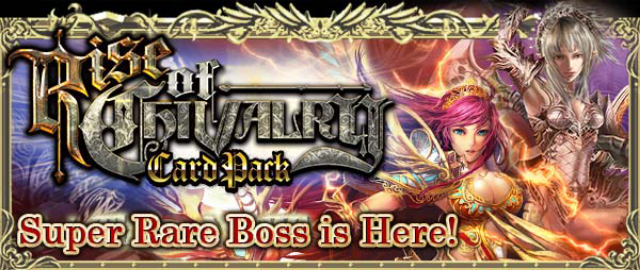 The Rise of Chivalry Card Pack is a card pack that accompanied the event Fullmoon Party - Gravity Line. It was available from September 30 - October 15, 2013. The card pack is divided into two halves similar to the event. Instead of a sequel card pack like previous card packs that accompanied Fullmoon Party events, this card pack contains both. The first half has the Bonus Sets and Bonus Prizes and the second half has the Boss Battles.
New feature cards were added and replaced the previous cards on October 3.
Some LR and SSR cards were replaced with different LR and SSR cards at the start of the card pack's second half.
What's Rise of Chivalry CP?
Edit
First Half
Edit
Second Half
Edit
Bonus Set
Edit
Note: The following sets shown below are the 1st Bonus Sets. Subsequent sets contain different rewards.
Heaven (Vanadis) Set1
Edit
Hell (Satan) Set1
Edit
Earth (Hyperborea) Set1
Edit
Rise of Chivalry Card Pack Bonus
Edit
You get 1 bonus for 1xCP & 10 bonuses for 10xCP. The choice of bonus is random.
CP Duel Effective Cards
Edit
These cards are effective against the card pack's bosses.
Step Up Card Pack
Edit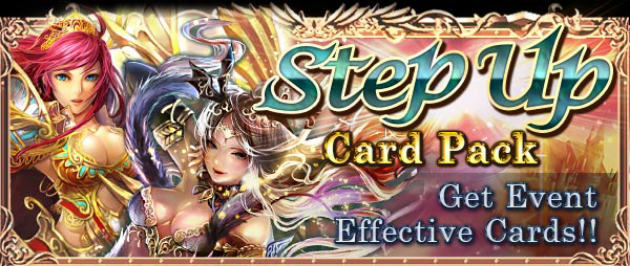 The Step Up Card Pack was added on October 3. The price of Step 7 is halved on the first draw of the player.
On October 11, the cards were replaced with more event effective cards.
Previous Rule
Edit
Current Rule
Edit
* SR or SSR Guaranteed every draw
* Chances of getting SR or SSR cards increase every time you Step Up
Rise of Chivalry CP
Edit
LR Ticket Exchange Spot
Edit
SSR Ticket Exchange Spot
Edit
Gravity Line Slot Reward
Edit
Reward List
Edit
Super Rare
Edit
* You may obtain one of the 3 bonuses.
* Attack Reward is obtainable by drawing 10xCP.
Super Rare
Edit
Consecutive
Edit
Defeat
Rewards
5, 15, 25
SSR Exchange Ticket x1
10, 20, 30
LR Exchange Ticket x1
Total Eclipse Card [LR] x1
Rise of Chivalry Banner
Edit
Ad blocker interference detected!
Wikia is a free-to-use site that makes money from advertising. We have a modified experience for viewers using ad blockers

Wikia is not accessible if you've made further modifications. Remove the custom ad blocker rule(s) and the page will load as expected.