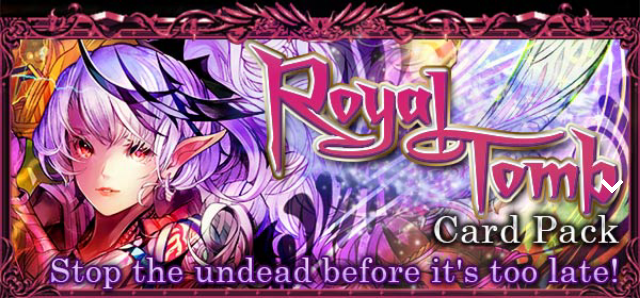 The Royal Tomb Card Pack is a card pack that accompanied the event Active Pursuit - Royal Grave Rerise. It was available from December 19 to December 26, 2012, but it was extended to the 27th.
Royal Tomb Bonus
Edit
You get 1 bonus for 1xCP & 13 bonuses for 10xCP. The choice of bonus is random.
Four new cards were added in Grade 2 on December 25.
Step Up Bonus Card Pack
Edit
A total of 7400 MC is needed to obtain all rewards.
Two new cards were added in Steps 2 and 3 on December 20 that were available for a whole day.
Two more steps were added on December 21 along with three new Christmas-themed cards on Steps 2 and 7. Other changes include Great Kujata from Step 2 replacing King Kujata in Step 4, and "Card" was changed to "From Legend CP."
Starting December 25, for two days, a Legend CP Ticket was added in Step 1, two new cards were added in Step 6, and Santa Luna is a guaranteed reward, removing Royal Tomb Bonus G-1 and G-2.
* Steps 2, 3, 4, 6 must be repeated twice.
Royal Tomb Banners
Edit
Step Up Bonus Banners
Edit
Ad blocker interference detected!
Wikia is a free-to-use site that makes money from advertising. We have a modified experience for viewers using ad blockers

Wikia is not accessible if you've made further modifications. Remove the custom ad blocker rule(s) and the page will load as expected.