Quick Stats
Element
Rarity
Type
Cost
Hell
N
DEF
6
Shaula [N]
---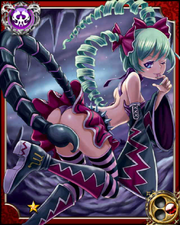 What, are you afraid of my tail? Well, there's nothing I can do about it being deadly poisonous. But it's all right, I won't stick you with it as long as you don't do anything strange.
Stats
Skill
None
Shaula [N+]
---
Don't I look dashing and stylish like this? But of course, my most attractive feature is this tail.
Stats
Skill
None
Shaula [N++]
---
My poison is amazing! I can send the most ferocious beasts to the netherworld with just one thrust. If you'd like, I can stick you once with it? Nah, I'm just kidding.
Stats
Skill
None
Shaula [NN]
---
You understand how much I'm filled with power, right? Look, even my tail is shining. Well, this may also be due to your help. Thanks.
Stats
Skill
None
Shaula [N]: DEF +300
Shaula [N+]: DEF +400
Shaula [N++]: DEF +500
Shaula [NN]: DEF +600
Completion: DEF +900
Ad blocker interference detected!
Wikia is a free-to-use site that makes money from advertising. We have a modified experience for viewers using ad blockers

Wikia is not accessible if you've made further modifications. Remove the custom ad blocker rule(s) and the page will load as expected.