Quick Stats
Element
Rarity
Type
Cost
Heaven
N
DEF
6
Snow Pigeon [N]
---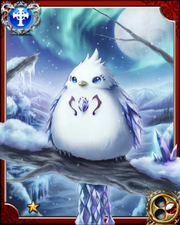 There's no room to even entertain objections in calling the Snow Pigeon the symbol of our country. I wonder if there is anyone who doesn't experience some nostalgia looking at that ungainly figure -- "Songs extolling the Motherland" by Maria
Stats
Skill
None
Snow Pigeon [N+]
---
We are all the same as that pitiful Snow Pigeon. Lovers are always just illusions. As the snow thaws, your beloved will just return to being a trifling man, "The Passion of Agni's Daughter".
Stats
Skill
None
Snow Pigeon [N++]
---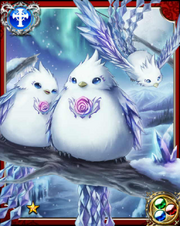 Lions and dragons are the mainstream when it comes to motifs in coats of arms, but our country is different. The most popular design in this country is the Snow Pigeon -- "An Introduction to Heraldry" by Marina
Stats
Skill
None
Snow Pigeon [NN]
---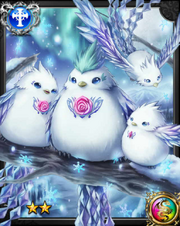 Spring always comes, even to the Winter Country. if the Snow Pigeons sing adorably, a warm spring will arrive even in the hearts of the ice people -- The hymn, "The Snowman Bird".
Stats
Skill
None
Snow Pigeon [N]: DEF +500
Snow Pigeon [N+]: DEF +600
Snow Pigeon [N++]: DEF +700
Snow Pigeon [NN]: DEF + 800
Completion:
Ad blocker interference detected!
Wikia is a free-to-use site that makes money from advertising. We have a modified experience for viewers using ad blockers

Wikia is not accessible if you've made further modifications. Remove the custom ad blocker rule(s) and the page will load as expected.