Quick Stats
Element
Rarity
Type
Cost
Heaven
R
DEF
12
The Green Healer [R]
---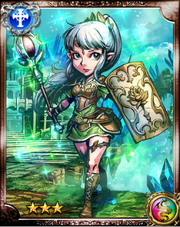 The dimensional distortion has temporarily linked the world of "Deity Wars" with the world of Mobage"s "Blood Brothers"!
Stats
Skill
Trick Star: Slightly ups DEF Power of deck's Heaven cards.
The Green Healer [R]: ATK +1300
This card was given out during the cross-over event Blood Brothers.
She is one of the eight warlords the player can choose in the game Blood Brothers.
It is interesting to note that The Green Healer is a defense card, yet it gives an attack material.
Ad blocker interference detected!
Wikia is a free-to-use site that makes money from advertising. We have a modified experience for viewers using ad blockers

Wikia is not accessible if you've made further modifications. Remove the custom ad blocker rule(s) and the page will load as expected.