Quick Stats
Element
Rarity
Type
Cost
Heaven
SSR
DEF
25

Winged Goddess Asteria [SSR]
---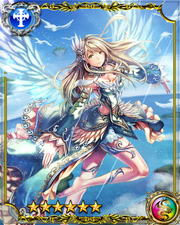 I am so happy that I can talk with birds. They tell me different stories about places around the world.
Stats
Skill
Sky Protection: Immensely ups DEF Power of deck's Heaven cards.
Winged Goddess Asteria [SSR]:
Ad blocker interference detected!
Wikia is a free-to-use site that makes money from advertising. We have a modified experience for viewers using ad blockers

Wikia is not accessible if you've made further modifications. Remove the custom ad blocker rule(s) and the page will load as expected.