Quick Stats
Element
Rarity
Type
Cost
Hell
N
ATK
6
Wyvern [N]
---
This winged dragon circles the sky looking for prey. It's recommended to hide among rocks or high grass if you're spotted.
Stats
Skill
None
Wyvern [N+]
---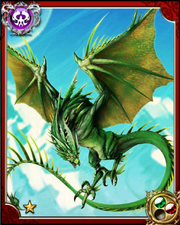 There are many types of wyverns. Some breathe fire, and others are clad in lightning.
Stats
Skill
None
Wyvern [N++]
---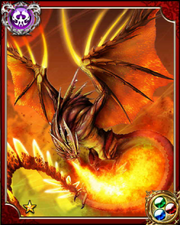 Somewhere in the world there exist people who can speak with wyverns and ride on them.
Stats
Skill
None
Wyvern [NN]
---
Along my journey I saw a flock of dozens of wyverns. They seemed not to be searching for prey, but running away from something.
Stats
Skill
None
Wyvern [N]: ATK +400
Wyvern [N+]: ATK +500
Wyvern [N++]: ATK +600
Wyvern [NN]: ATK +700
Completion: ATK +1000
A wyvern is a legendary winged two-legged creature composed of a head of a dragon and a tail of a snake.
Amatsuki wishes to discipline the wyverns that rampages in the mountains.
The Heavenly Knights have riders who ride wyverns.
It served as an area boss in Fullmoon Party - Sacred Tree of Heaven.
Ad blocker interference detected!
Wikia is a free-to-use site that makes money from advertising. We have a modified experience for viewers using ad blockers

Wikia is not accessible if you've made further modifications. Remove the custom ad blocker rule(s) and the page will load as expected.